by HydraMaster Technical Support/Customer Care Team
Winter is here.  Are you prepared for cold temperatures?
The instructions on how to prepare a new General Motors car for winter are pretty straightforward.
Although they recommend taking the vehicle to an authorized GM mechanic to ensure that the wipers, blades, battery, belts and tires are all in good condition, there are only two crucial concerns mentioned: Make sure the recommended amount of antifreeze is in the radiator and that winter windshield wiper fluid has been installed. If only it could be so easy to winterize a truckmount extractor.
Although the consequences for improperly preparing an automobile and a truckmount for winter are similar—potential risks and serious damage to the motor, pumps, valves, hoses, and just about all engine components, to name just a few — getting a truckmount ready for the colder months is more involved. And there are usually far-reaching consequences for carpet cleaning technicians who depend on their truckmount in their work: Loss of the machine due to freezing temperatures means no money until repairs are made.
Prepping the machine for winter
Although each truckmount manufacturer will have specific recommendations for their equipment, the following are general steps that will likely apply to many, though not necessarily all, truckmount machines:
• Get familiar with requirements. Long before cold weather arrives, carpet cleaning technicians should be fully aware of what steps they should take to properly winterize their equipment. Sometimes serious and costly problems may arise if winterizing steps must be taken at the last minute, just hours before a blast of winter arrives.
• Select the proper antifreeze. Before discussing how much antifreeze to use for winterizing the machine, it is necessary to discuss what kind of antifreeze to use. The major differences among the various brands are the "corrosion inhibitors." Some brands of antifreeze are formulated with very high-quality inhibitors to provide the needed level and types of protection for the truckmount and its components. In contrast, a lesser quality brand may not contain the additives and corrosion inhibitors to thoroughly and properly protect the extractor. Many manufacturers recommend and install 100 percent glycol-based antifreeze and will likely recommend the continued use of this type of antifreeze for the machine.
• Drain any mix tanks, water boxes or containers your truckmount may have. Some machines will have a drain valve to release antifreeze; others will require the pump to be on and water to be released out of the wand. Some machines will automatically switch off when water is drained; others must be manually turned off. It should also be noted that antifreeze can be considered a hazardous material, and most communities have regulations on how it is to be disposed.
• Fill with antifreeze, in the amounts recommended by the manufacturer. With some manufacturers, this may be 100 percent antifreeze, not diluted with water. With other machines, it may be a 50/50mixture of antifreeze and water.
• Either turn the ignition key on or start your machine, depending on the procedure necessary to circulate the antifreeze through the machine. The antifreeze must be moved through the entire system and be completely circulated, as this will allow it to protect all components that are affected by water.
For specific directions on how to winterize your HydraMaster Truckmount, contact your local HydraMaster Distributor and refer to your equipment manual.
Be prepared
Carpet cleaning technicians should carry antifreeze with them during the winter months, in case more must be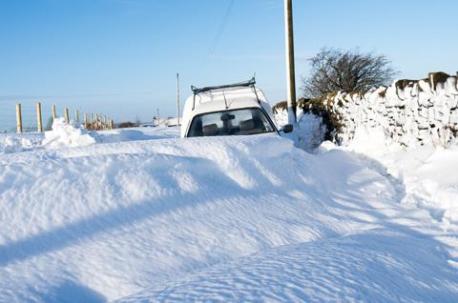 added.
Wands and hoses should be stored indoors when not in use; this also applies to virtually all tools and chemicals.
If at all possible, when not in use, the truck or van should be stored in a garage.
What to do if you must store your van and truckmount outside in the elements
If you do have to store your truckmount and van outdoors, and you are depending on an electric or fuel fired heating system to keep the inside of your van warm, make sure the heating capacity of your heater is strong enough if the temperatures drop into the single digits or even below zero.
Here are some other helpful hints:
– Keep in mind if your electricity goes off during an intense storm, that the power has been taken away from your electric heater.
– Consider purchasing a remote temperature sensor with an alarm that will notify you if the temperature in the van drops below 32 degrees F. These are generally available at your local home imporvement store. If you would prefer to purchase on-line, just go on-line and do a search for "remote temperature sensors with freeze alarms." There are even several more expensive sensors now that can notify your mobile phone if the temperature in your van gets near freezing.
– If you are not going to use your truckmount for more than a week, freeze guarding with anti-freeze is your best choice.
Winterizing vehicle-powered units
There are two basic types of truckmount systems:
• Slide-in systems are powered by their own engines and are bolted into a van or truck.
• Vehicle-powered or clutch drive truckmount systems (CDS) use the truck's or van's motor to power the extractor.
Most of the suggestions and steps already discussed apply to slide-in systems that have their own motors and pumps. Vehicle-powered or clutch drive systems do not have their own motors so, for the most part, their winterizing concerns are tied to properly winterizing the host vehicle.
A 'do-it-yourself' job?
Most manufacturers will provide detailed instructions on how to winterize their equipment.
However, just as with the GM car mentioned earlier, some truckmount manufacturers recommend that their machines be winterized at an authorized service center.
For those technicians who lack the time or mechanical expertise or who are just concerned that the winterization process be done correctly, taking the equipment to a service center may be the best option.
The most important thing is to simply be aware that there are specific steps that must be taken to keep the equipment running properly throughout the winter and up and ready when warmer weather returns